FROM THE HONORABLE JAMES MERLINO MP
DEPUTY PREMIER
MINISTER FOR EDUCATION
"The Victorian Global Learning Awards are an opportunity to celebrate the outstanding achievements of international students and to recognise schools and homestay families for their contribution to global learning and engagement.
The students, schools and homestay families … are leading the way in global engagement, better connecting us to the world and strengthening our cultural and linguistic diversity.
I am sure that they will continue to develop as leaders and role models for global learning, and go on to excel in their future education and careers."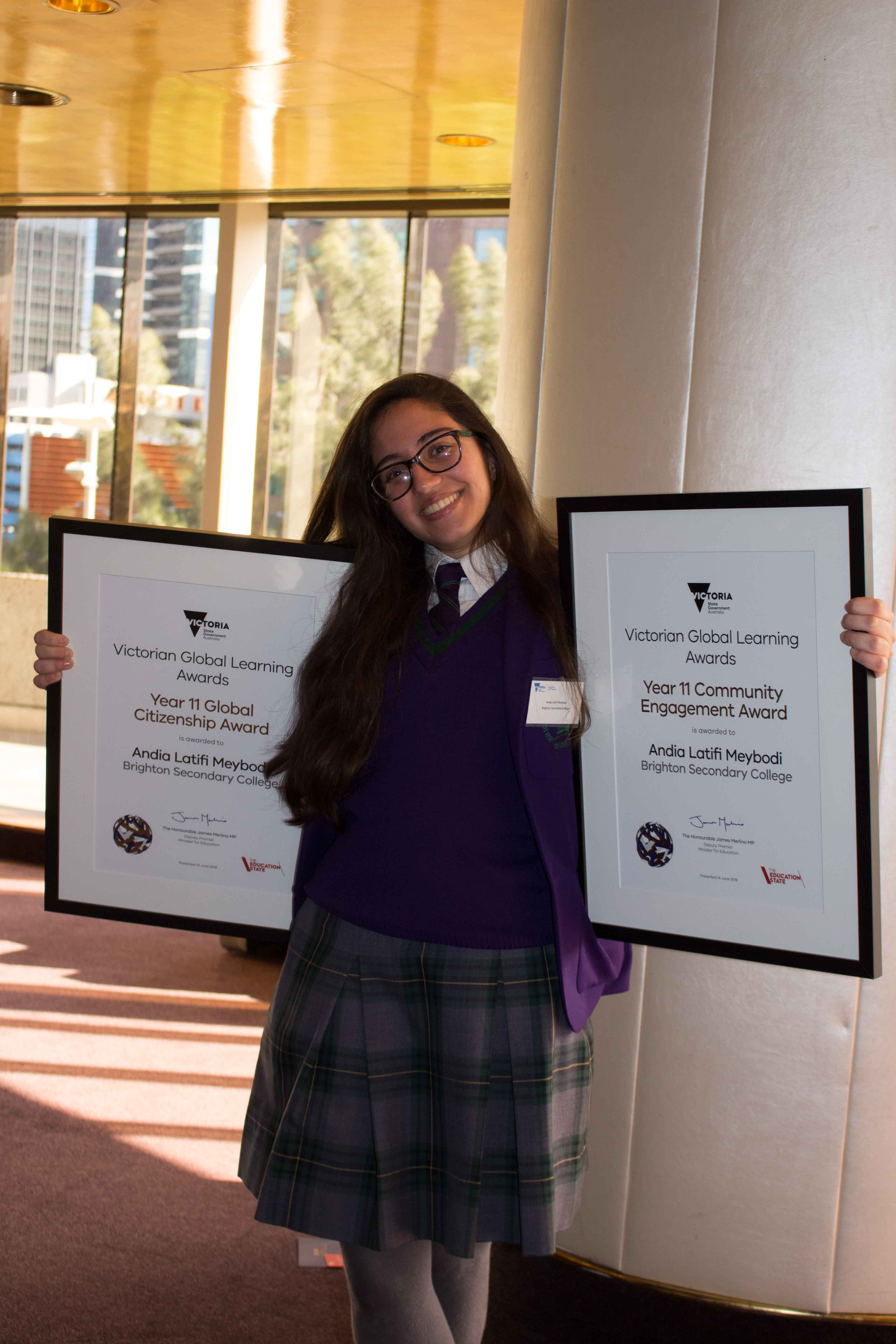 ANDIA LATIFI MEYBODI
YEAR 11 GLOBAL CITIZENSHIP & COMMUNITY ENGAGEMENT AWARDS
Andia is a passionate advocate for global citizenship and women's rights. She has freely shared her culture, language and the history of her Iranian homeland with her school community to help local students learn about the world. Andia has worked hard to encourage others to put aside cultural and language barriers in order to come together and better understand global issues facing all of us. She has gathered food for the Asylum Seekers Resource Centre, helped write and direct the school movie production  and organised a mural at Brighton Secondary College which has provided an opportunity for the whole school community to come together. She is also a student mentor where she helps younger students to improve their academic skills. Andia was elected a 2018 International Student Captain by her school – a testament to her abilities as a young leader.
"I BELIEVE THAT VICTORIAN SCHOOLS MAKE IT EASIER FOR INTERNATIONAL STUDENTS TO TAKE ADVANTAGE FROM THE OPPORTUNITIES OFFERED IN THIS COUNTRY. IT PROVIDES ME WITH THE COURAGE AND STRENGTH TO BE MYSELF AND TO BE PROUD OF WHERE I COME FROM."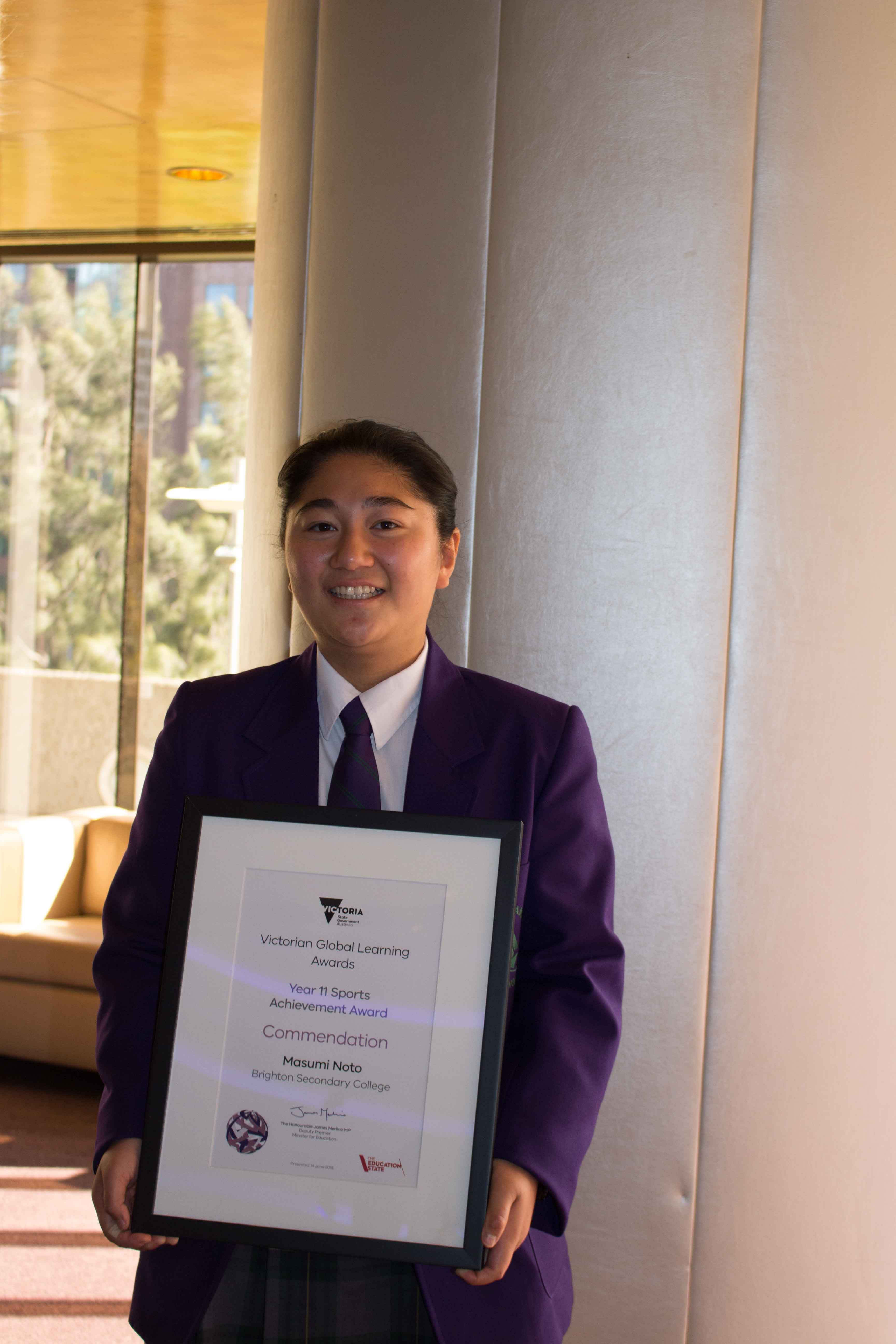 MASUMI NOTO
YEAR 11 SPORT ACHIEVEMENT COMMENDATION AWARD
Masumi is a passionate footy player at Brighton Secondary College. In her home country of Japan, Masumi represented her school and local community in soccer. Since coming to Australia, Masumi has wholeheartedly embraced the Australian Football League (AFL) where she has learnt a new game and new skills. Masumi has a demonstrated work ethic, always attending training sessions with the St. Peter's Under-18 Youth Girls Team and volunteering her free time to coach younger students. Masumi has recently been selected by the Sandringham Dragons Girls' TAC Program where she can continue to pursue her passion as a standout AFL player. Masumi has also played in the futsal team, represented Brighton Secondary College in the district javelin competition and has achieve academic success in all her subjects.
"TO KEEP PLAYING SPORTS WAS ONE OF MY AIMS IN COMING TO AUSTRALIA, AND I AM PROUD OF MYSELF THAT I ACHIEVED THAT. ON TOP OF THAT, THE DISCOVERY OF AUSTRALIAN RULES FOOTBALL IS A SUPER BONUS FOR ME."
View Andia's interview with the Department of Education and Training Victoria
SCRIPT
[Andia Latifi Meybodi] "I consider myself very lucky to be at Brighton Secondary College because Brighton Secondary is a school where giving something back to the community is really encouraged and that really satisfies me."
[Travis Dangstorp, Assistant International Student Manager] "Andia is a really empathetic, respectful and intelligent young woman. She is always willing to voice her opinion but listen carefully to the opinion of others. Over the last year or so Andia has been involved in variety of activities. She initiated the mural which was a program that she decided would help to bring the school community together. She initiated the asylum seeker resource centre food drive during Christmas. She also participated in the mentor program which is primarily aimed at helping younger students both socially and academically; and she is also International Student Captain."
[Andia Latifi Meybodi] "Australia is one of the most multicultural countries in the world and is one of the most accepting places. Being in Victoria has helped me realise the passion that I have for writing, it's helped me build the confidence to express myself in my own words. It's a tool for me to be able to bring awareness to the issues that are important to me like refugees, women's rights and in general human rights. It's also a way for me to be able to reach people's hearts and make them feel the emotions I feel about these issues."